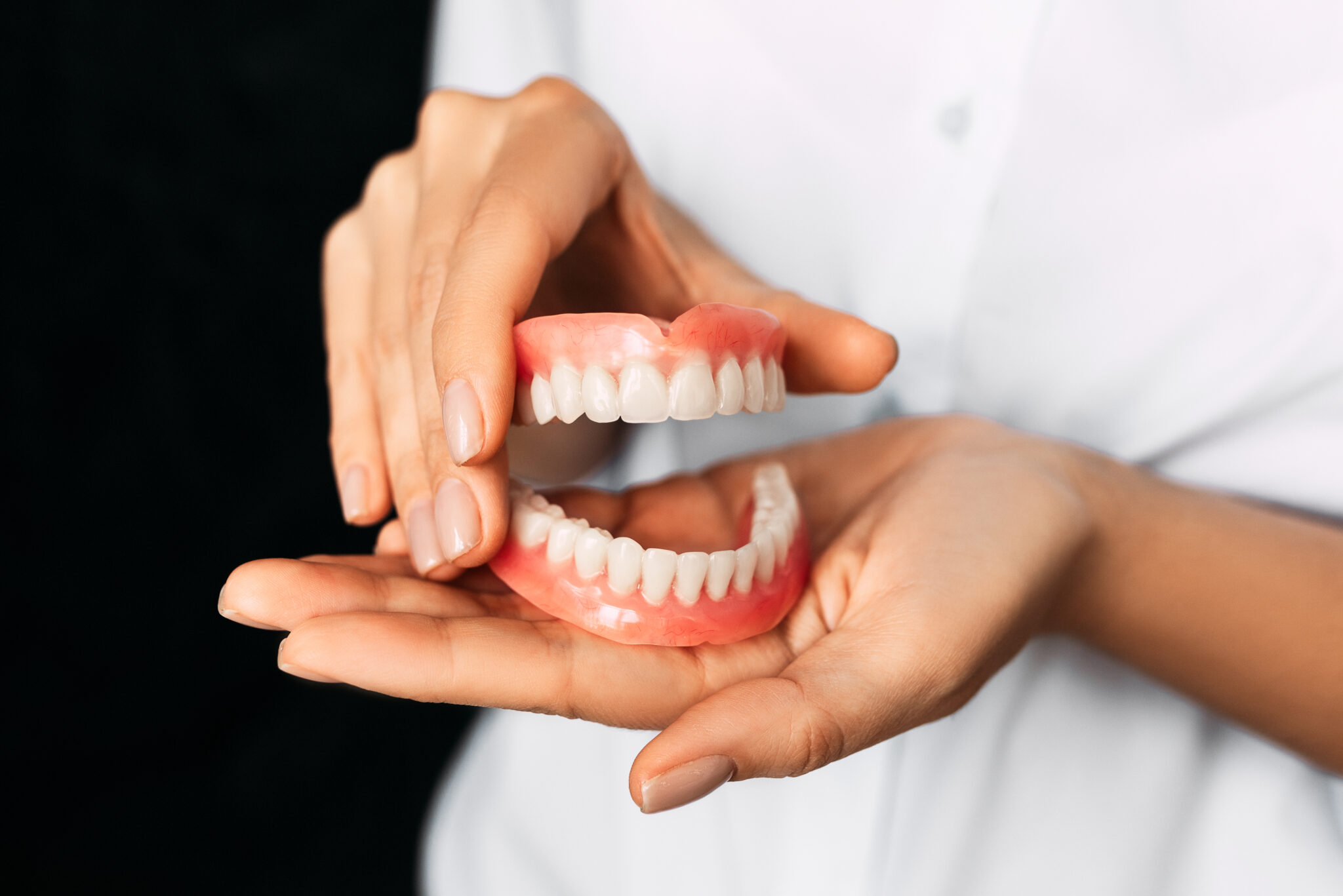 If you are missing some or all of your teeth, dentures offer a solution that restores your mouth to a full set of teeth. This solution completes the smile and gives the ability to properly chew and talk. That's why it is part of restorative dentistry services.
We want to help each patient reach their dental goals with us at Reed Family Dental. Removable full or partial dentures give a way to meet the goal of filling teeth gaps. Our dentist, Dr. Allison Reed, is happy to discuss this treatment as one of your tooth replacement options.
What Types of Removable Dentures Are There?
Removable dentures provide the look and function of real teeth when they are in place, and then you can easily take them out to clean them. These dental appliances include a pink base resembling gums, which is fitted to your mouth. Natural-looking false teeth are attached to this gum piece.
Depending on whether you are missing some or all of your teeth, you may need partial or full dentures. As the names suggest, full dentures include a complete set of teeth, while partial dentures have a few connected teeth as part of a single dental piece.
Suction holds full dentures to your mouth, yet our dentist may recommend dental glue if needed. Partial dentures connect to your natural surrounding teeth with a metal framework.
What Is the Denture Process?
We start by creating an impression of your teeth and gums, which informs the specifications of the custom-fitted denture. Our office uses an iTero scanner, which is an advanced tool that makes the impression process much better than it was in the past.
Using this scanner, our team creates digital X-rays that are clear and accurate. You skip the previous impression method of a sticky substance in uncomfortable trays and simply sit back while we scan your mouth.
Once your dentures are made from the impressions, we have a fitting session with you and can provide adjustments. Our goal is to make sure your dentures have the perfect fit and feel as comfortable as possible.
What Are the Benefits of Removable Dentures?
There are different tooth replacement options available, yet they each work for certain situations and come with pros and cons for each person. Dr. Reed discusses your options with you to decide on the right choice before moving forward with a service.
Removable dentures offer certain benefits. They are more affordable with a simpler process than implant-supported dentures or other implant options. They fill in a large number of teeth, including a full set if needed, whereas bridges work for a small number of missing teeth and crowns replace teeth one at a time.
Overall, removable dentures offer a quick and simple way to restore mouth function and appearance. It's worth discussing potential cons with our dentist, including that the lack of tooth roots can lead to a loss of jaw and facial structure in time. Implant-support dentures help solve this problem if desired.
Make a Consultation Appointment
Start by setting up an appointment for a consultation at our office. During this visit, Dr. Reed can talk to you about your options and help you decide whether partial or full dentures are a good choice for your situation.
Call our receptionist at 740-622-5695 to set up your appointment.